Vulcano One
ISOMATEX realized his first drone
Together with his long-time partners, ISOMATEX just finalized the production of his first drone entirely made from composites material based on FILAVATM fibers. This new drone meets the highest standards of quality combining high strength, lightness and an ergonomic design for long lifetime duration and easy handling during use. This prototype is the result of research and hard work by a competent dedicated team, including our partner Ant-Arctic-Lab. Not forgetting to mention, of course, the great help Daniel has given to the project with his experience as a drone pilot. We are very proud to show the first pictures of it.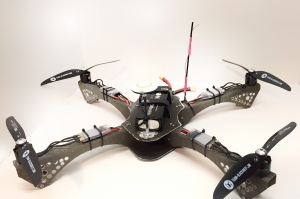 The drones are capable of broadcasting in real-time what is happening on the ground. This outstanding quality has numerous advantages in sectors such as the defense, the security or for the leisure industry. Their market is constantly growing and they won't stop revolutionize our every-day life. Although today this new technology may seem far away reality, it will soon be increasingly vital to all of us.
The main challenge for manufacturers remains however to find the ideal materials that combine high resistance, lightness and recyclability, not to say in this particular case also vibration absorption and non-conductivity. The solution is now available: the FILAVATM reinforced composites offer all the performances required for the creation of an extremely resistant high performance lightweight drone.
Indeed, the whole range of FILAVATM products provides high impact resistance. This has the advantage of increasing the life-time of the equipment while reducing the maintenance frequency. The several crash tests reveal the high impact resistance of the FILAVATM fibers. Likewise, the performance of ISOMATEX products allows to reduce the number of layers needed. The weight achieved is significantly lower than of those made out of other classical materials. In addition, FILAVATM products are entirely recyclable and are of no risk to mankind or the environment. Using FILAVATM products, it is 100% quality guaranteed, without taking any risk.
EXCLUSIVE: discover here the video clip of Vulcano one.