Our company
ISOMATEX S.A. is a private company founded in 2005. The construction of the factory started in February 2008 and was completed in Spring 2010.
ISOMATEX is the European leading producer of enhanced volcanic rock filaments. ISOMATEX's products are distributed under the trademark FILAVA™ and are made up of filaments with a diameter of less than 11 µm.

Our achievements and our daily challenges
The production of FILAVA™ is unique thanks to a genuine and innovative treatment of the raw material, basalt, which is enriched with various mineral additives to increase and guarantee its original mechanical and chemical properties. The components that are used as the manifacturing process are exclusive property of ISOMATEX.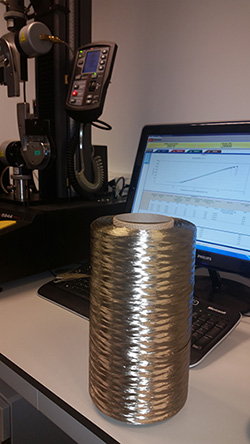 Thanks to its innovative approach, its cutting-edge technological process and a strict daily quality control, the company
ISOMATEX has found its place in the sector of high thermomechanical performance fibres.
ISOMATEX is keen to find the best solutions for each application. We develop today both tailor-made fibres and sizing compounds for the most prestigious companies at the forefront of composite materials and technical textiles.
Producing fibres that consistently deliver outstanding mechanical properties is one of the most important challenges of ISOMATEX challenges. Thanks to this constant and reproducible quality, ISOMATEX has established itself as the sole global leader in this field.