Ant-Arctic-Lab / Innovation Yachts
VOLCANIC FIBER EVOLUTION is preparing for the adventure
This wonderful yacht, the fruit of a well-structured and well-designed concept, the result of an impressive project carried out with great care and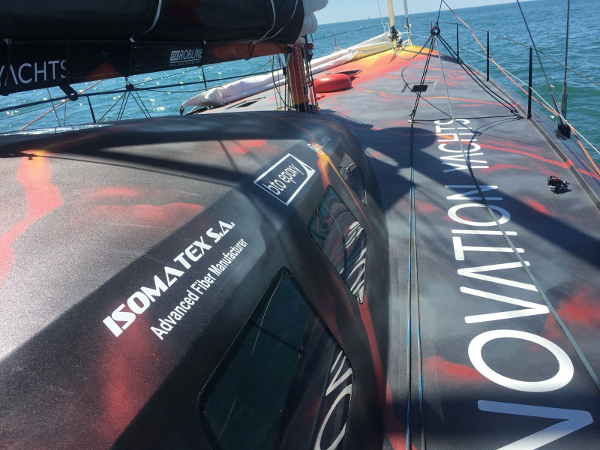 precision over the past two years, has recently been launched.
Acknowledged as an important milestone, the launch of this unique OPEN60AAL boat was successfully completed on Thursday 17 May 2018 at the Port of Sable d'Olonne.
A true technological revolution in the field of boat building, this yacht is entirely made of recyclable composite materials, in combination with bio-based resin and in combination with a wide range of fibre reinforcements all made of the volcanic rock fibre FILAVATM. As for the double skin hull, it incorporates balsa to further lighten the structure.
FILAVATM is the fibre reinforcement that offers exceptional thermo-mechanical properties for very high-end composite materials. In addition to very good long-term durability in aggressive environments (chemical and alkaline resistance), this fibre reinforcement provides excellent impact resistance and dimensional stability in many critical applications.
The incorporation of FILAVATM in the hull and more particularly in all the structural parts, made it possible to achieve a design that was both very strong and very light.
Throughout the project, it has been demonstrated that thanks to its exceptional mechanical qualities (in particular tensile strength and elongation at break), the composite hull reinforced by FILAVATM absorbs impacts much better, thus making the boat safer and particularly suitable for navigation on the high-seas.
Validating the new technologies, engineering and software developments to prove their qualities, durability and functionality in extreme environments, and with minimum impact on the environment, is the main goals of the ANT-ARCTIC-LAB project led by the renowned skipper Norbert Sedlacek, who has accepted the challenge of achieving a new record in the nautical world.
For more information, visit http://www.ant-arctic-lab.com/